Get it together, Prez!
Was a tad disappointed to learn President-elect Barack Obama will be wearing a notch lapel dinner jacket for his inauguration ball. All good and well until he made the same mistake President Bush did with white tie!
Yikes! For the record, I'm not really the authority on black tie or white tie attire -- that honour goes to
Black Tie Guide
and the many great personalities on the
London Lounge
. Still, I wish they or their clothiers would do a bit of research. No turndown collars, ever, with white tie attire. President Bush takes it a step lower by having his trousers down at his hips and the waistcoat (vest) peeking out under the front of the tail coat. There are other things, like sleeve length, I could nitpick but they're not that bad. I think it'd be harder for Obama to screw up morning wear should he choose that for the actual inauguration. Let's look at the facts: 1. More selection of neckwear and collar type.
2. Personality can be shown in waistcoats.
3. Morning formal needs a serious comeback in the United States. So really, why not? Brooks Brothers' designers seems to agree with me in this sketch. The double breasted waistcoat would definitely work on his lanky body type. (Image from
this article
.)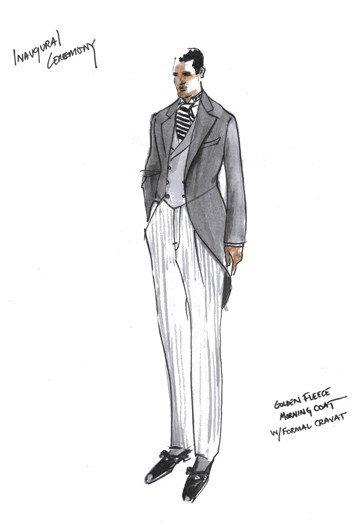 And let's not forget the man he's being compared to so much these days...